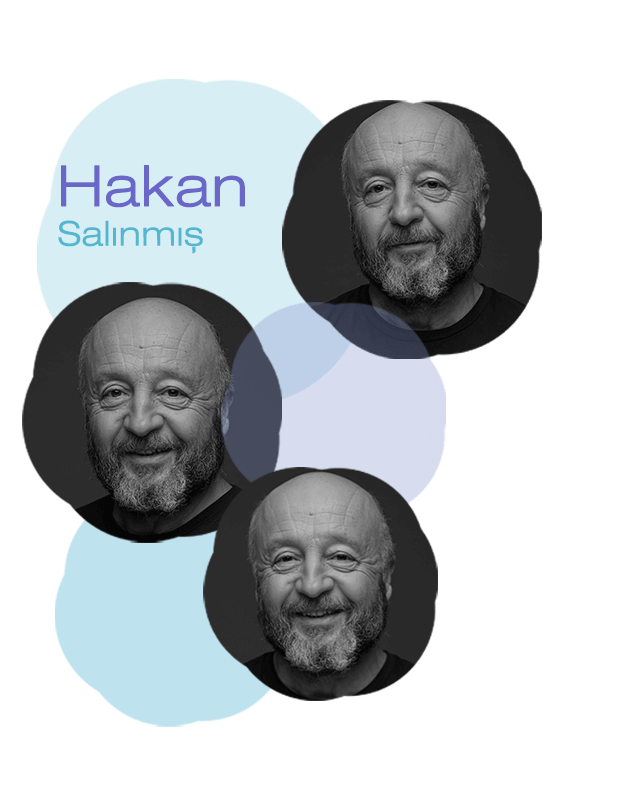 Hakan Salınmış
Hakan Salınmış was born in Ankara, 1964. He worked at Ankara Art Theater for many years. His debut project on TV was as 'Mehmet' character in the TV series named 'Ferhunde Hanımlar' in 1993. He acted in many prestigious projects on Turkish Television for over years.
Along with his television and cinema career, he continued his commitment to the theater scene. In 2013, he awarded the "Most Successful Actor of the Year in Supporting Role" at the Sadri Alışık Theater Awards.
He has been featured in the memories with his roles in the TV series named 'Bizim Evin Halleri', 'Aliye', 'Muhteşem Yüzyıl Kösem', 'Vatanım Sensin'. Finally, he appeared with the character 'Halil' in the TV series named 'İyi Günde Kötü Günde'.
Films and Series
Yakamoz S-245 (Digital Series, 2022)
Mahkum (Tv Series, 2021)
Doğduğun Ev Kaderindir ( TV Series, 2021)
Şeref Bey (Digital Series, 2021)
İyi Günde Kötü Günde (TV Series, 2020)
Ramo (TV Series, 2020)
Bayi Toplantısı (Film, 2020)
Tek Yürek (TV Series, 2019)
Hedefim Sensin (Film, 2018)
Aslan Ailem (TV Series, 2017-2018)
Sen Kiminle Dans Ediyorsun? (Film, 2017)
Vatanım Sensin (TV Series, 2016 -2017)
Seni Seven Ölsün (Film, 2016)
Kocan Kadar Konuş (Film, 2016)
Muhteşem Yüzyıl Kösem (TV Series, 2015 – 2016)
Zilin Sesi (Film, 2015)
Münafık (Film, 2015)
Kara Bela (Film, 2015)
Bana Masal Anlatma (Film, 2015)
Şeref Meselesi (TV Series, 2014- 2015)
Sevdaluk (TV Series, 2013)
Göl Zamanı (Film, 2013)
Çocuklar Duymasın (TV Series, 2010 - 2013)
Sen Kimsin (Film, 2012)
Deniz Yıldızı (TV Series, 2009- 2012)
Kıskanmak (Film, 2009)
Adab-ı Muhaşeret (Film, 2009)
Son Ağa (TV Series, 2008)
Hisar Buselik (TV Series, 2006)
Çinliler Geliyor (Film, 2006)
Yalancı Yarim (TV Series, 2006)
Kadın Her Zaman Haklıdır (TV Series, 2005)
Sevinçli Haller (TV Series, 2004)
Aliye (TV Series, 2004)
Ablam Böyle İstedi (TV Series, 2003)
Pilli Bebek (TV Series, 2003)
Kasabanın İncisi (TV Series, 2003)
Bizim Evin Halleri (TV Series, 2002 – 2004)
Fidan Hanıma Ne Oldu? (TV Series, 2001)
Çiçeği Büyütmek (TV Series, 1998)
Ferhunde Hanımlar (TV Series, 1995 – 1996)